Welcome to Rabbit Rehome
Rabbit Rehome UK
allows rescue centres and individuals to enter details of rabbits in need of new homes. Rabbit lovers can then search for rabbits to adopt. We are not organising 'adoptions online' you will need to contact the rescue centre to find out about their homing policy. This site is not intended for breeders to advertise deliberately breed litters or for breeders to find 'stock'. The rabbits here are looking for loving homes as pets.
More about us
New Rabbits Available for Adoption

MORADO (Rainbow's)
(Essex)

Delores
(Yorkshire)

BORIS
(Essex)

Juno
(Nottinghamshire)

Maple
(West Midlands)

Yoda (yoyo)
(Lothian West)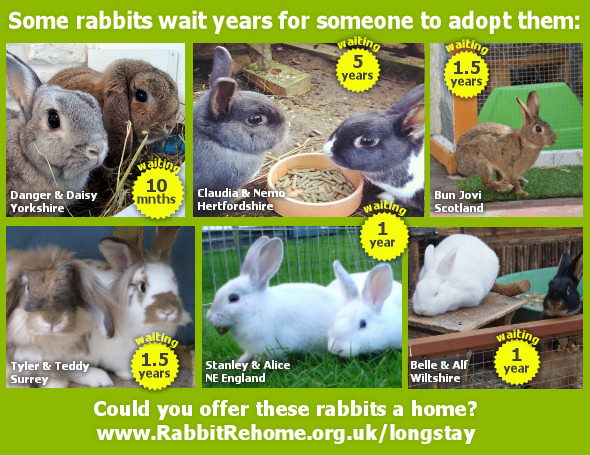 News

Are your rabbits safe from urban foxes? Happy to be out in daylight and with no fear of humans, don't under estimate the threat! More ...
Download Rabbit Rehome Poster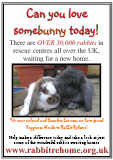 Help spread the word about the thousands of rabbits in the UK currently without homes by spending a few moments printing out and putting up our poster. You could help find one of the rabbits listed on Rabbit Rehome the perfect home.
Download Poster (279kb PDF)